Anyway, we're building them a web site of their very own and I have to give a presentation on it at their monthly meeting tomorrow. I'm freaked out about this on several levels (high school girls are OMG scary, lots of people staring at me, me trying to sound smart and not talk too much, etc.), but mostly I need help answering the question, OMG WHAT AM I GOING TO WEAR???
I'm thinking of a combination of vintage & new because there is more to fashion than BP./Nordstrom and I don't want to look like I'm pandering to the kiddies. I have a high-waisted gray wool pinstripe skirt I'm thinking of wearing. And maybe a light blue ruffle-front blouse with a high collar. Tucked in, of course. Both vintage, both purchased at Last Waltz. Then maybe I'll wear a fitted blazer on top and either brown boots or black tights & little black shoe-booties.
I've worn this outfit before. It was cute. I got compliments from coworkers. But when I tried it on a few minutes ago, it made me feel bloated. And old. Ech.
So what do you think? Too old? Too fall fashion, like maybe I should throw some brighter colors in there and a spring trend or two? Yes/No/Maybe?
UPDATE!
this is what i ended up wearing (ignore the hair--it wasn't coifed yet):
so i kept the pencil skirt and added primary colors and higher heels. the heels also have a bit of color, with yellow cut-outs on the toes.
I'm giving a presentation tomorrow to the Seattle BP. Fashion Board. The Seattle board is a group of about 50 high school girls (there was one dude at the last meeting). These are chicks who are REALLY into fashion and want to either work in the industry as buyers or designers. It's basically a huge focus group for Nordstrom disguised as a cool-kids club.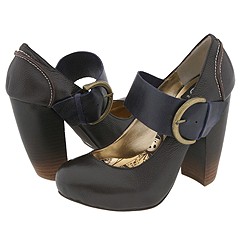 Dolce Vita



Jeffrey Campbell



Miss Sixty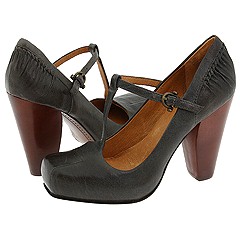 Frye



Steven by Steve Madden (give it up Steve, you're still mall trash)

I just really like the stylized clunkiness of it. Plus they look comfortable-ish, like a wedge. It just seems very fresh to me, but then I remember how I drooled over pointy-toe stilettos in 2002 and am like, eh.
I was in Nordstrom the other day and I can't help it, I love the new heels:
It's by Billabong, available
at PacSun
.
Another thing I wanted to talk about is alternatives to certain places. I know many people have objectives to American Apparel (see SNL's dead-on skewering of AA head Dov Charney
here
for the number one reason) so I thought I'd gather some links and if y'all have suggestions, feel free to leave them in the comments.
Alternative Apparel
No Sweat
The Green Loop
Equita
Fair Indigo
See more
here
. In addition to being sweatshop-free, many of the clothes linked here are organic, vegan, etc. And while we're on the subject of clothes to avoid, this celebrity as designer thing has to stop. I don't watch The Hills and don't really understand its popularity, but Lauren Conrad's line is okay. I refuse to pay that much for jersey, but we all have our quirks. However, Whitney Port's is...no, thank you.
(
Read more...
Collapse
)
A piece I've seen at a couple of stores that seems to be a minor trend rapidly approaching potential oversaturation (of my closet) is the classic v-neck cardigan. (Some retailers are calling it a boyfriend cardigan and even a grandpa cardigan, but I've never had a boyfriend--or grandpa--who wore a cardigan so I can't relate.) I'll bet you can find one at your preferred trendy and/or thrift store but my favorite so far has been this one:
I need help finding a cute new spring jacket! I want it to be fun and cute, but professional enough to wear into work. It also has to be practical- nice pockets in the usual hand pocket place, etc. I really like the bright color ones that are all over right now, especially the yellow, green and blue ones. I don't especially dig belts, but wouldn't rule out a belted one. I don't want to spend much over $100. Anyone seen any cute ones lately? Please help- I hate shopping, but like to have cute clothes! Thanks!
these are the gold standard in rain boots, but it's ridiculous that wellies are so expensive. $98 for these! it's even more ridiculous that cheaply made rain boots cost $60.
i already have a cute pair of
shiny red rain boots
, but still... i'm jonesin' for some new wellies. maybe it's the crap weather (except i know it really isn't).
how are you all keeping your tootsies warm and dry?
(
this dress
Collapse
)
to wear to my cousin's wedding and now I need shoes. It's a sort of casual, outdoors, west coast kind of affair. I was thinking pointy 50s-ish heels, maybe in red or green, but then, that seemed too much, so maybe a color of one of the flowers on the dress? Yellow? Or purple? Or should I just go with heeled sandals? Then again, have I completely lost sight of what I'm doing here? Help! I can't make up my mind about shoes. Suggestions? Anyone?
I got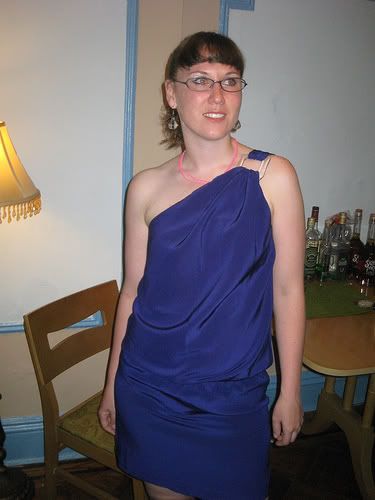 As promised, here is a picture of the dress I wore for my birthday festivities:
i'm only working here at rock center for one more week. weekly paychecks + h & m across the street + sephora down the street + bank across the street from sephora = potentially dangerous combination.
One shoulder tops/dresses: Yes or No?
I'm mostly inclined to say no, but... Today is my birthday and I went to Century 21 on my lunch break to indulge myself. The summer sale on imported clothing has just begun, so there was a lot of reasonably priced indulgence to be had. I was mostly looking for a dress to wear for my birthday-related festivities tomorrow night, and I think I found one, but I'm a little nervous about it.
It's a one-shoulder deep yet bright purple mini-dress with an elastic waist and a large clear plastic square loop holding up the one shoulder. I bought these awesome fuschia clear plastic earrings yesterday at the Salvation Army, and thought the dress would be a good match. Anyway, I guess I will find out tomorrow whether I can pull it off.
I am a little bit afraid that, while shopping, I may have been (sub)consciously performing my opposition to
this awful wardrobe suggestion
that I came across this morning.
Anyway, I will post pictures once I actually try this thing on.
(Speaking of trying things on - I got yelled at by a clerk at C-21 for trying on a button-down shirt over my tank top and not using the dressing room. The woman told me you were only allowed to try on jackets in the store. There is no way I am waiting in a 15 minute line to try on a button-down shirt in a public dressing room at C-21. Wtf??)
I'll start with a basic question:
Current Location:

work

Current Mood:

satisfied